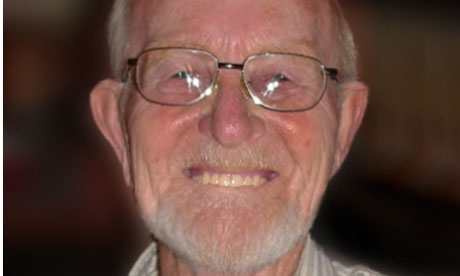 Geoff Holden and his wife passed on their passion for music
and performance to their sons and grandchildren
My father, Geoff Holden, a proud Lancastrian, who has died aged 85, was a teacher, school governor, scout leader, league hockey player and actor in and around Accrington, as well as a member of the Labour party and the Methodist church.
He was born in Blackburn. His schooling was badly disrupted by illnesses including scarlet fever and chickenpox, and breaking both hips in a fall. But as adults left for second world war service, Geoff went quickly from being a scout himself to troop leader, when barely out of his teens.
In the final year of the war he was called up for the Royal Artillery as a gunner. He served in Cyprus, Egypt and Palestine and rose to the rank of sergeant, once narrowly escaping an explosion that destroyed a bank from which he had just collected the regiment's wages. The army taught him to drive and introduced him to hockey, which he continued to play into his 60s with Blackburn Hockey Club.
On demobilisation, he returned to Lancashire and completed the "emergency" teacher training programme at Bamber Bridge College, near Preston. On his first teaching assignment he met Eunice Nicholls, also a teacher, and they married in 1951. Geoff taught for many years at St James' primary school in Blackburn and by the time of his retirement in 1987, was deputy head there.
Geoff and Eunice were active in the Methodist church, as circuit steward and organist respectively. Even as they raised four sons – Andrew, Simon, Peter and me – Geoff led a scout troop and Eunice a cub group, once taking cubs, scouts and three sons (by train) camping in Cornwall. Geoff volunteered as a representative of the Schoolmasters Provident Society and was an active member of the NASUWT teachers' union. They both appeared on stage, first with Accrington Amateurs, then Bel Canto theatre group, with Geoff also working front of house and Eunice playing the piano. Their passion for music and performance was passed on to their sons and grandchildren.
Eunice died from cancer in 1987. In retirement, Geoff helped establish and run a credit union for his community, continued in the theatre and the church, volunteered for Meals on Wheels and sang with Haslingden choir. In his 70s he undertook a month-long touring holiday in the US, accompanied by his sister, Dorothy. In the latter part of his life, he found happiness in simple things – a good cup of tea, an occasional cigar and hikes in his beloved Lake District.
He is survived by his younger brother, Brian, his sons, nine grandsons and a granddaughter, and three great-grandchildren.
Guardian: Other Lives